---
BAWI IS BALANCED ART WORLD INTERNATIONAL/INTERMETTING, ESTABLISHED BY BETTI NELLA FAILLA & CARLO PIETREROSSI IN PORTONOVO, ANCONA, ITALY, 2012

********************************************************
"WELCOME TO REMIC RAPIDS "OTTAWA BAWI 2014″
Ottawa Balanced Art World International 2014 – Remic Rapids Video Review
First Kick at the Cat Production:
https://www.youtube.com/watch?v=D6CXd76ky2M
Topeview. camera,  aerial view of festival by Dines Dines Anandavel:
https://www.youtube.com/watch?v=nvlbrdGFf9E
"Tipping Point" Jazz improv, finale:
https://www.youtube.com/watch?v=lwQXgyJmPIQ
Pre-BAWI: More sculptures coming to Ottawa River:
 http://www.cbc.ca/player/News/Canada/Ottawa/ID/2474083113/
Pre BAWI: CTV MORNING:
http://ottawa.ctvnews.ca/video?clipId=405474&binId=1.1487308&playlistPageNum=1
OTTAWA BAWI 2014 is curated by John Felicè Ceprano, CEO OTTAWA ROCK ART INC.
SPONSORS FOR OTTAWA BAWI 2014:






IN ASSOCIATION WITH

OTTAWA BAWI 2014 presents 14 INTERNATIONAL  "Stone Balance Land Artists", plus live performance venues in music, dance, & theater.
LOCATION MAP OF BAWI FESTIVAL

THE "OTTAWA BAWI"  Stone Balance Artists Profiles:
1. Dan Davis, Montreal, QC  http://www.dandavisrocks.com/"Rock balancing is many things; it's ephemeral art, it's a meditation, a one pointed focus: a way of embracing impermanence. I always laugh when my sculptures topple over after my working so hard on them, then I say to myself, "New opportunities await." It's a way of embracing nature, a way of developing patience."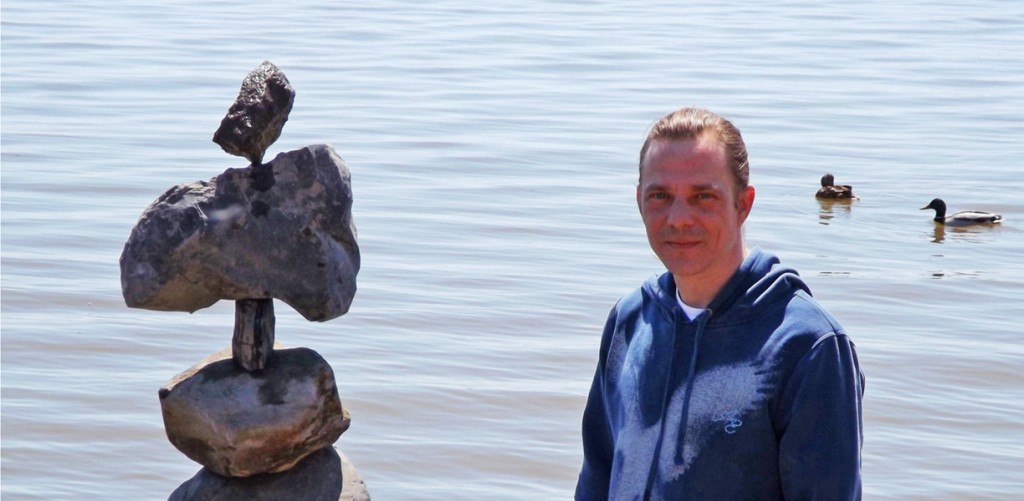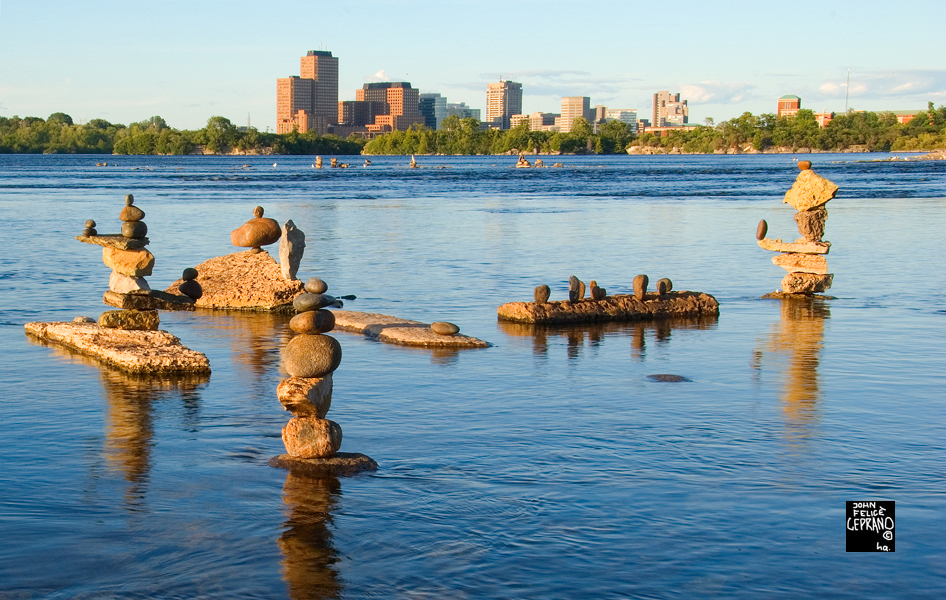 2. Peter Riedel, Toronto, ON
http://www.rockbalancing.ca/Peter Riedel.html https://www.youtube.com/watch?v=Ej1dg4_k4pY
Peter Riedel's work is at once permanent and impermanent, in that it alters the organization of the natural landscape. His transient sculptures contradict the permanence of traditional art; yet his photographs strive to record what shall eventually vanish. The photographs are not the purpose, but rather the end result in the creative process.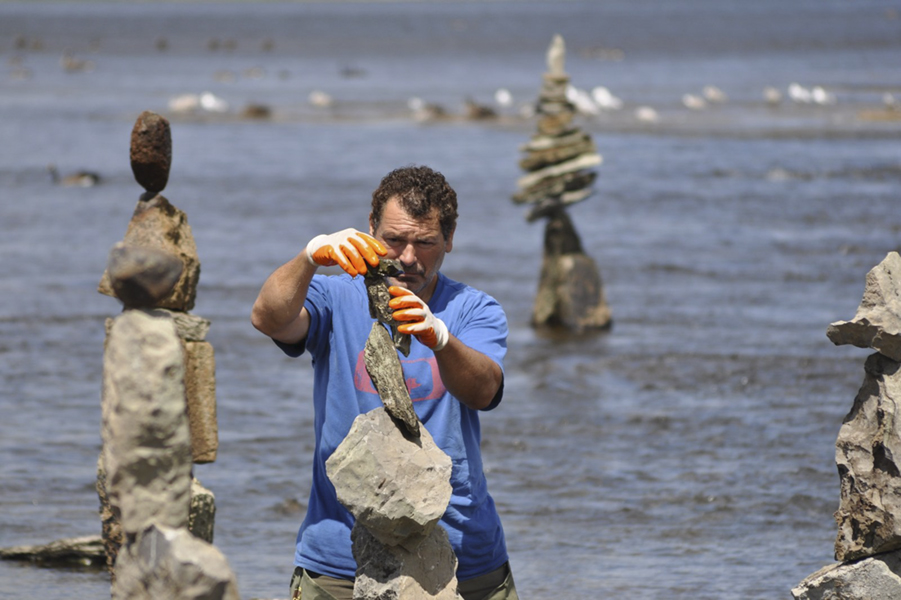 3. Karl Ciesluk, Ottawa, ON
Internationally acclaimed "land artist" Karl Ciesluk, has provided numerous public art installations throughout the world. Two samples of Canadian Public Art projects in Kelona, BC & Ottawa, Ontario.
http://www.kelowna.ca/CM/page2853.aspx
 http://ottawa.ca/en/residents/arts-culture-and-community/arts-theatre-music/king-edward-avenue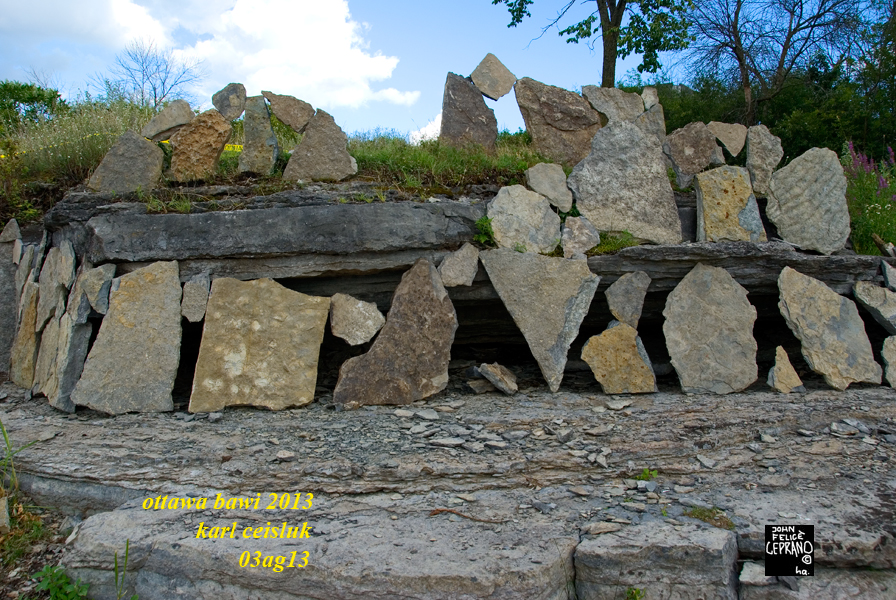 4. Bill Piesher, New York, USA
http://www.monumentdesigns.com
 http://rockbalancing.homestead.com/index.html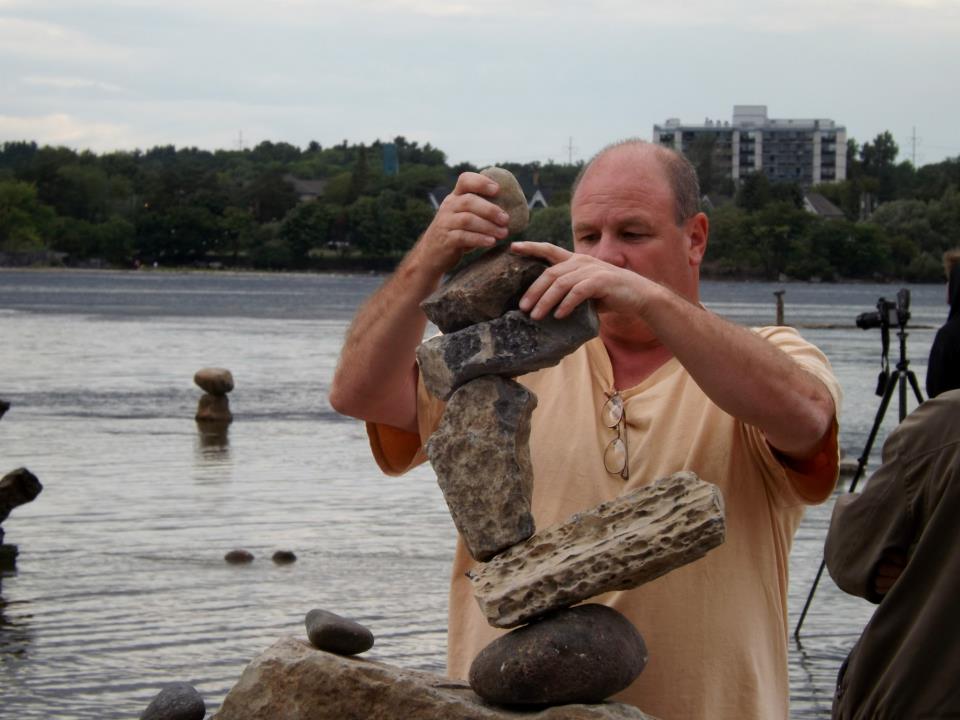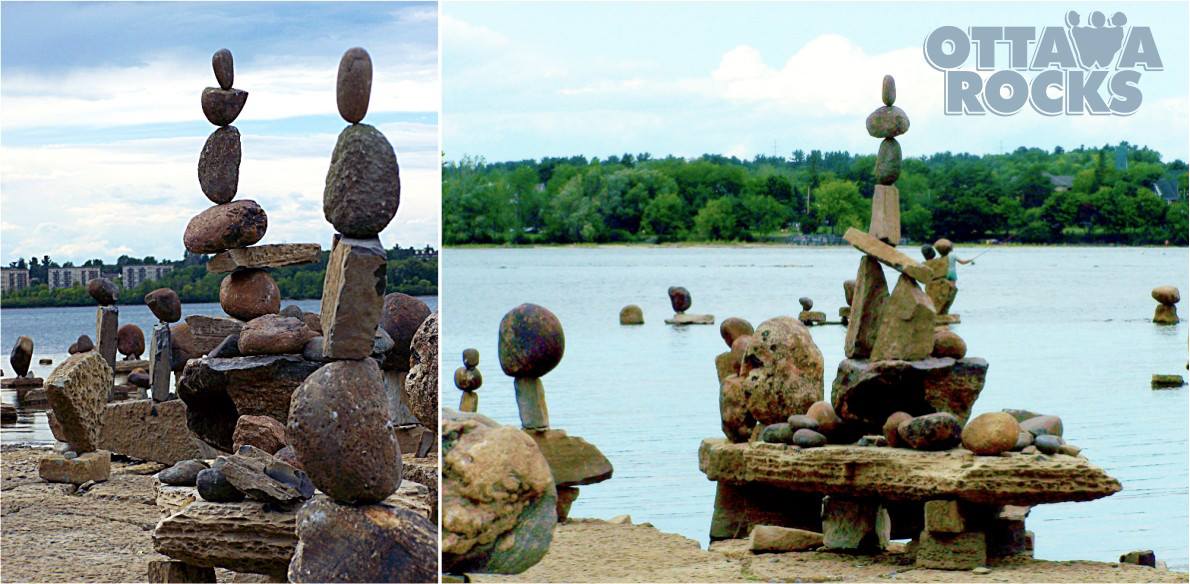 5. Jose Chvaicer, Haifa, Israel & Rio de Janeiro, Brazil
When Appreciating the images of the ROCK BALANCING ART one can make an incredible analogy for the All-Loving-All wave: Each stone is Strong when alone, Highly fragile and improbable but beautiful when Together.
https://www.youtube.com/watch?v=0j1O2oDmxQY
https://www.youtube.com/watch?v=apkSJtchRfQ&feature=em-uploademail
6. Michael Grab, Boulder, Colorado, USA, Edmonton, AB
Rocks are powerful teachers; ancient and wise; forged by countless years of geology; 
perfectly content with what they are. They normally appear to us as mundane objects amidst a growing excess of cultural stimulus. Through FEELING them and balancing them, the rocks have become my new points of focus, while making the excesses of our culture appear mundane.
They are cues to look within our nature for well-being; cues that have taught me to LISTEN… 
BALANCE being a grand metaphor for LIFE and sustainability everywhere." http://www.gravityglue.com/ http://www.superconsciousness.com/topics/art/gravity-glue-art-rock-balancing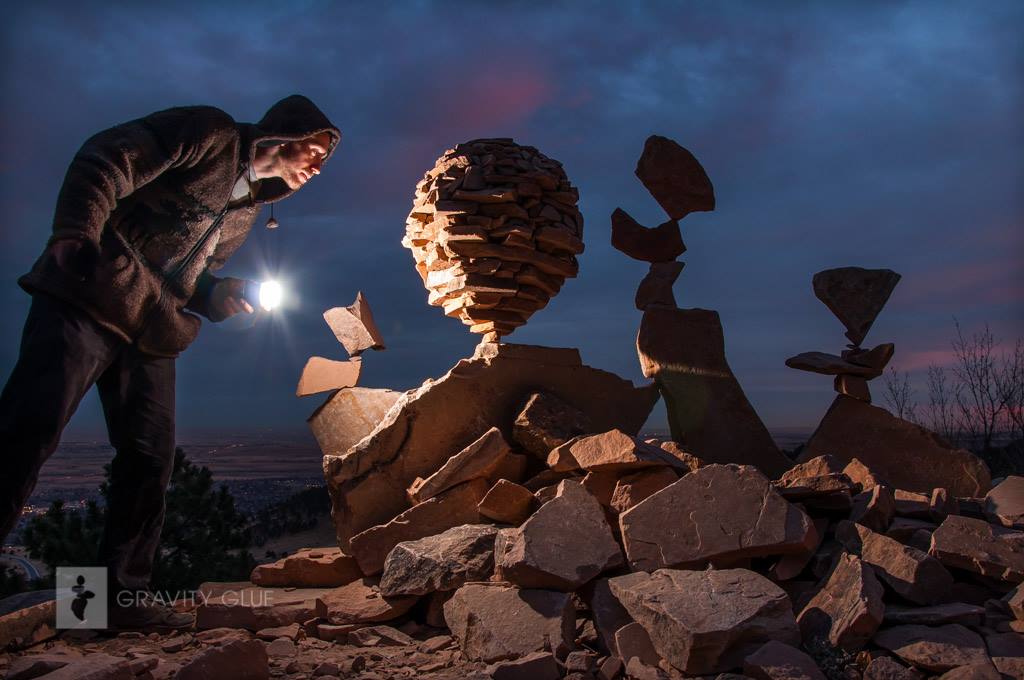 7. Robert Kaufmann, Ithaca, NY, USA
http://www.flickr.com/photos/babarobob/ http://www.youtube.com/watch?v=SVYTle0JXzM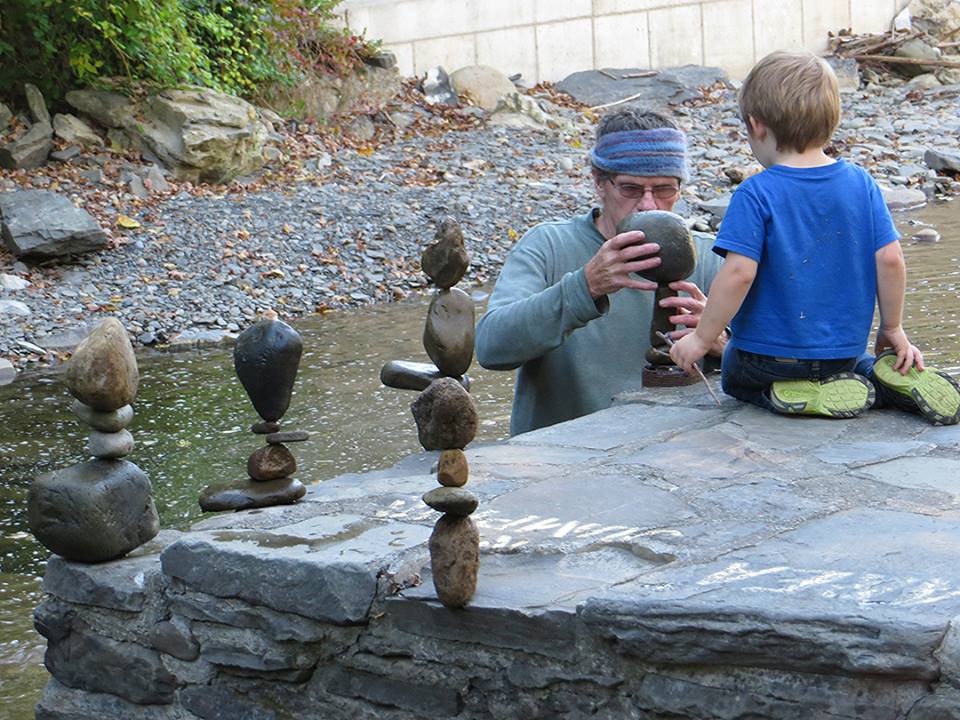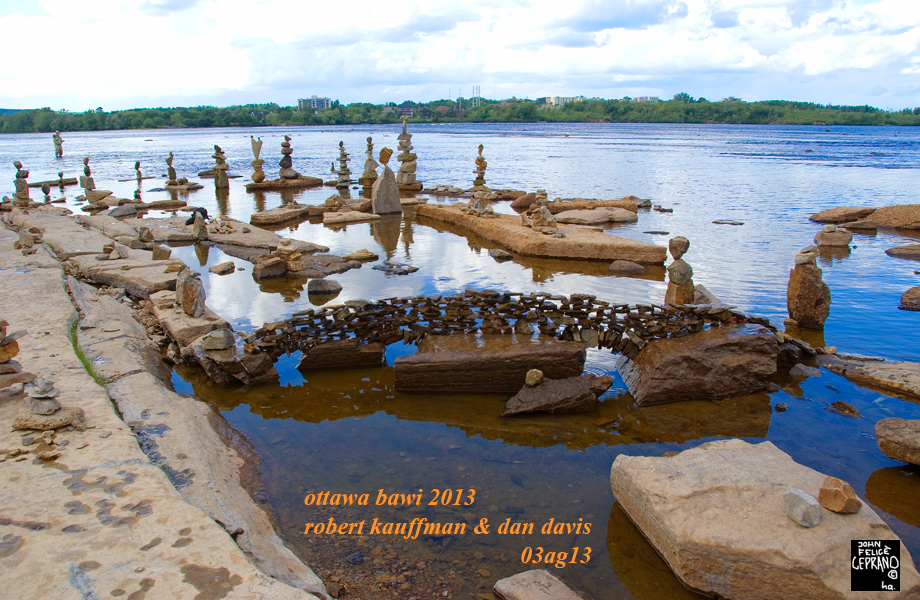 8. Kathy Clarke, Atascadero, California, USA
http://www.ladykatesphotography.com/California-Central-Coastal/Rock-Balances-CA-Central-Coast/37279540_sDkPRK
An ephemeral art form more commonly known as a Rock Balance! Rock balancing – is a test of creativity, balance, patience, strength and endurance. The actual building process proves to be an outstanding expenditure of time, thought and effort while experiencing some of nature's finest elements, and 'being' in some of nature's exceptional places!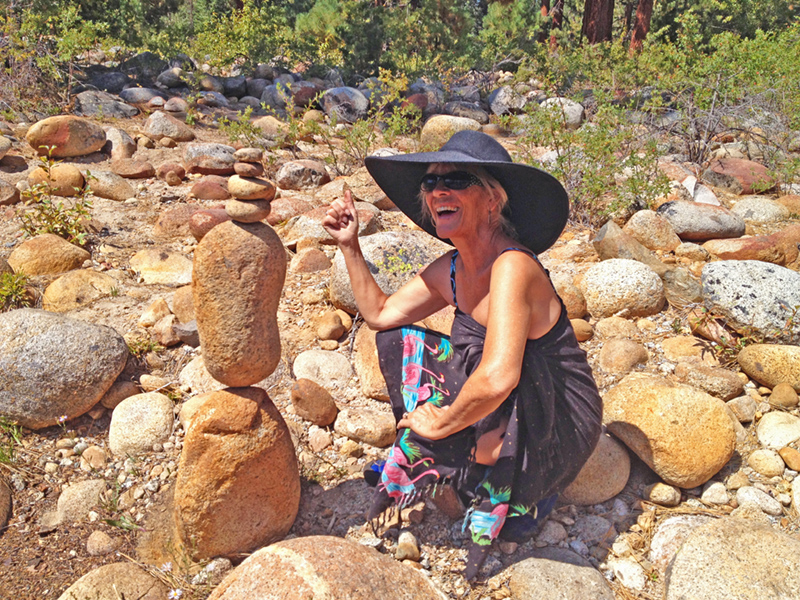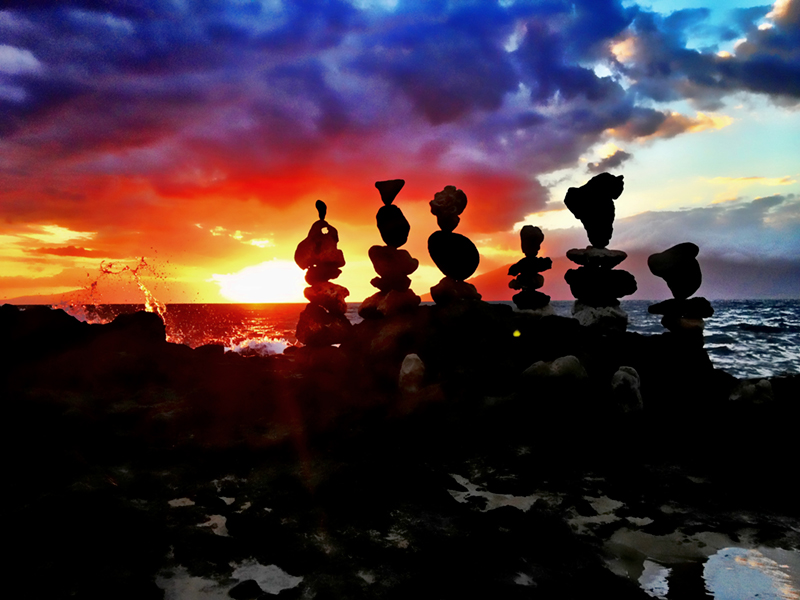 9. Peter Juhl, Egan, Minnesota, USA
http://temporarysculpture.squarespace.com/ "Uniting elements of performance art, sculpture, and meditation, balance artist and photographer Peter Juhl arranges natural stones found on location, using only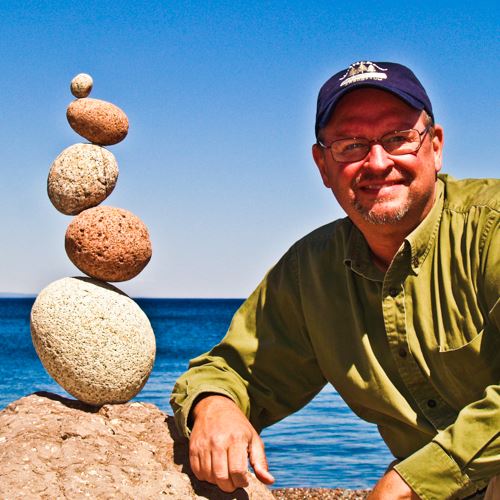 shape, weight, and friction to create ephemeral works of art. No glue, magnets, or other artificial supports are used. Often enduring for mere minutes before toppling, the sculptures live on in the artist's photographs.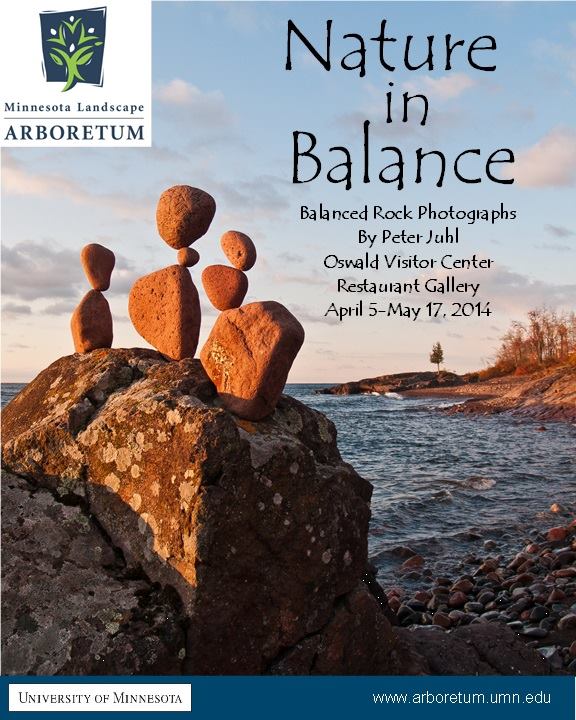 10. Joel Carter, Minneapolis, Minnesota, USA & Winnipeg, Manitoba, Canada
http://www.rockpeople.org
Joel Carter's work with balanced rock sculptures emerged from his own healing journey in regards to his Jewish roots, self and others – as well as finding the balance point within. Rocks archetypically represent the enduring human soul and have been revered by indigenous people around the globe from the beginning of human history. They serve as way finders for the human experience, they are central to our participation in ritual and spiritual connection, and offer elements for our survival and connection with the earth.
Born in Winnipeg, Canada, Joel is a freelance writer, author, rock balance artist, storyteller and physician.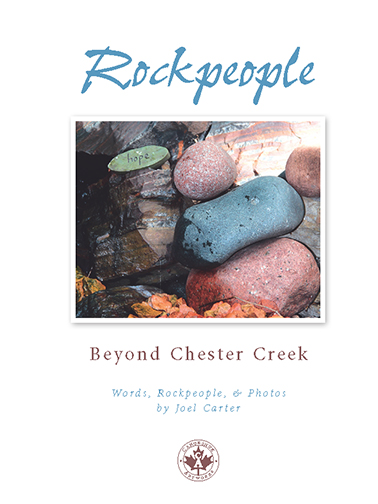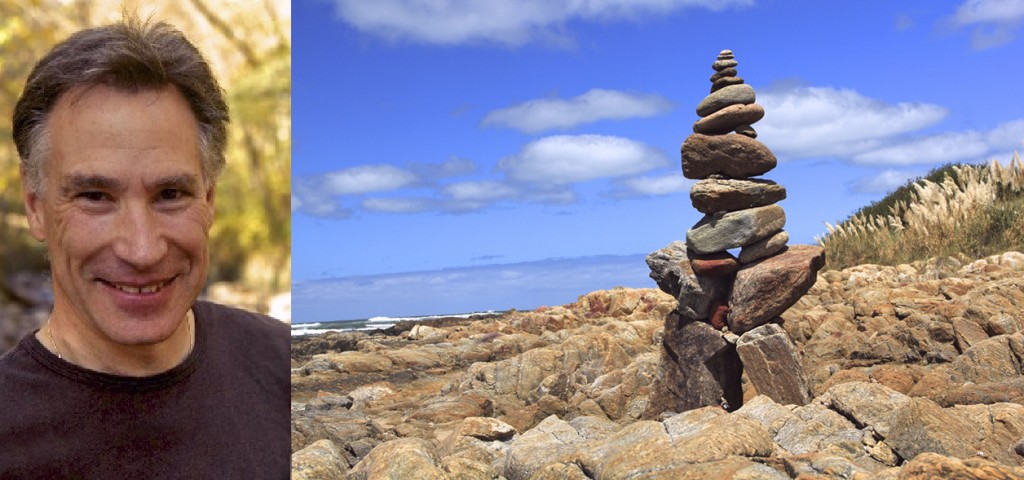 11. Evelyne Sanchez  Rocbaron, France
J'ai toujours aimé les pierres, mon père les aimait aussi. J'ai rencontré les pierres en équilibre par l'intermédiaire d'un ami. J'ai d'abord pensé, tout en étant très admirative que cette pratique n'était pas pour moi…..trop calme, trop statique. Mais contre toute attente….me trouvant un jour au bord de mer…. j'ai décidé d'essayer. J'ai été comme happée et je n'ai plus cessé depuis. C'est une façon de se recentrer sur l'essentiel en faisant le vide…. un lavage de l'âme en quelque sorte tout en renouant avec des pratiques ancestrales et très simples qui m'apportent joie paix et bien être. C'est à la portée de tout le monde et il faut essayer dans le respect de l'environnement et des autres pour comprendre ce que j'essaie d'exprimer..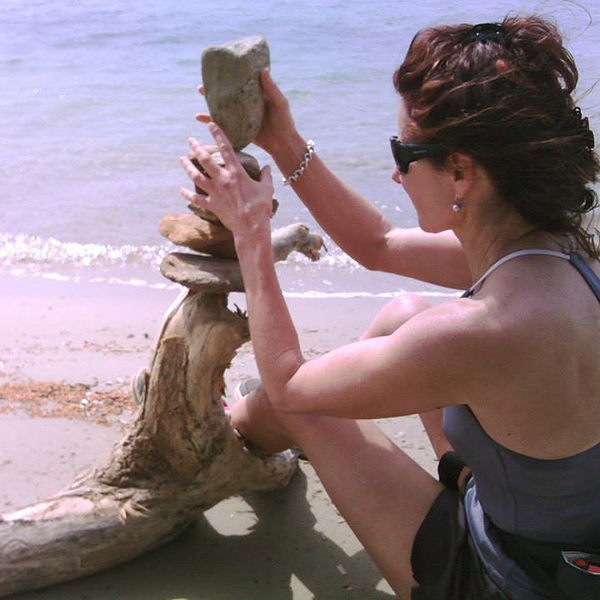 12. Tsutomu Koike   Arida-gun, Wakayama, Japan
For me growing up in a rich natural environment, rock is extremely familiar. It was only natural as a medium that reflects the creative desire. Rock balancing was a play for me, but I was immersed in gradually to rock balancing to change the form in response to the desire of me. And rock balancing evolved mental activity that creates alter ego that began reflecting the inner surface of me. Rock balancing has a temporary nature. There is a saying that "HAKANAI" in Japan. this means that it is fragile and is easily closed down. For example, it is a rainbow, is the light of the firefly, and the life of human beings, and the fireworks. They have a beauty because there is a temporary nature. I have been pursuing the same beauty also works for me. Point in the pursuit of beauty is to the zero gravity illusion by making a big rock that was stationary, and to minimize the junction area of the rock. In addition, work will be completed in harmony with nature space. The surrounding environment that changes in time and season will be integrated with the rock balancing. And it will produce a stage and bring out the beauty of essential rock balancing. Because there is a temporary nature, the finished work will be in the photo. Photos of rock balancing my "Rock's Portrait" is also the work of same. Tsutomu Koike
https://www.flickr.com/photos/110384566@N05/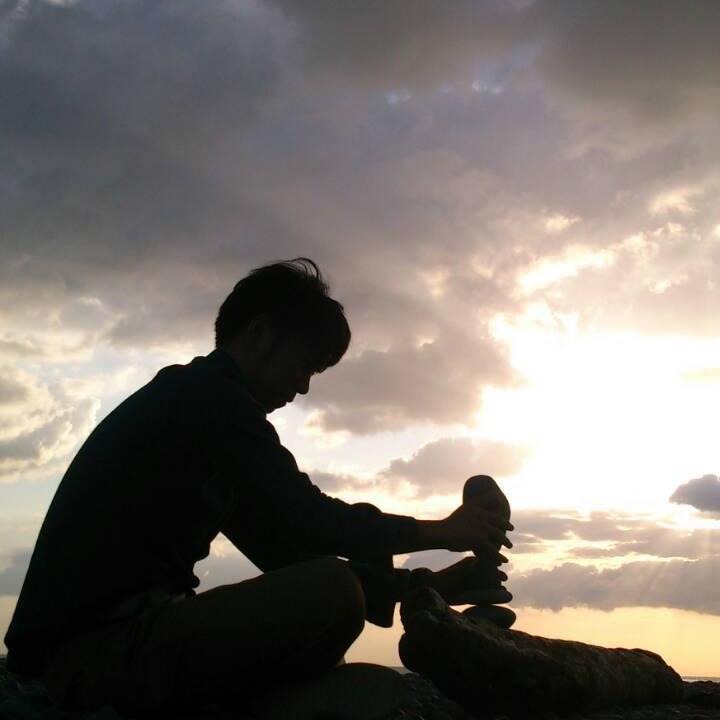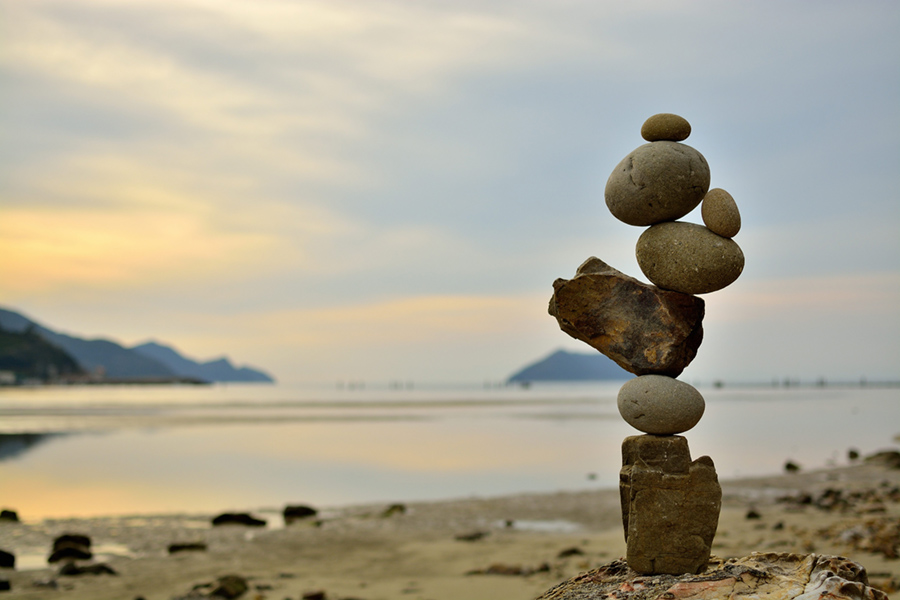 13. Nicola Sette, Genova, Italy
Nicola hosted "BAWI – VARIGOTTI" on the Italian Riviera near Genova, Italy, from July 5 to 6 2014. "OTTAWA BAWI" is he next festival and it is an honor to have Nicola participate in this years festival after all his dedicated work to host "BAWI VARIGOTTI".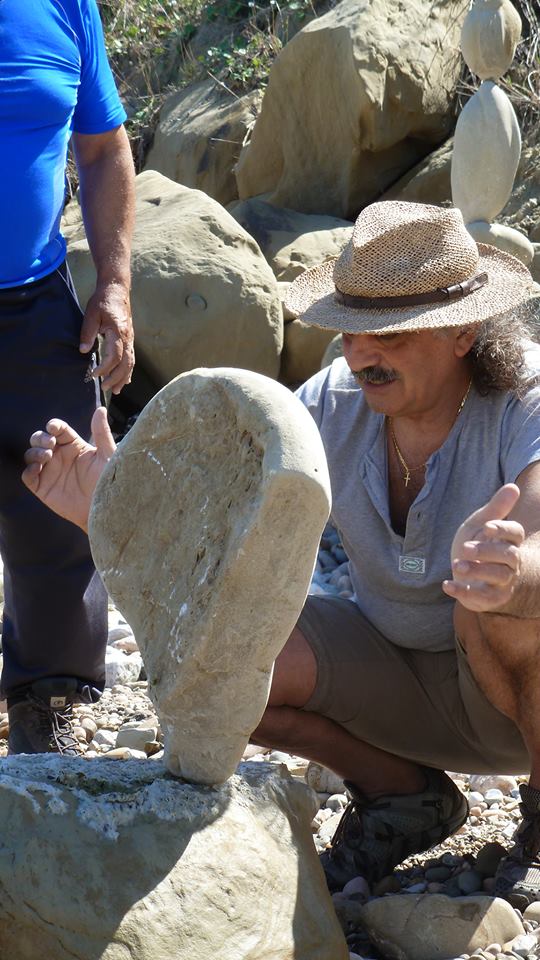 14. North Watt, Fayetteville, Arkansas, USA
As a stone balance artist, I often find that I don't find stones, they find me. When a stone allows itself to be expressed in balance, magic happens. This occurs for the artist and observer. When a child or an adult sees the wonder of creativity in balance, that connectivity is what makes us a community.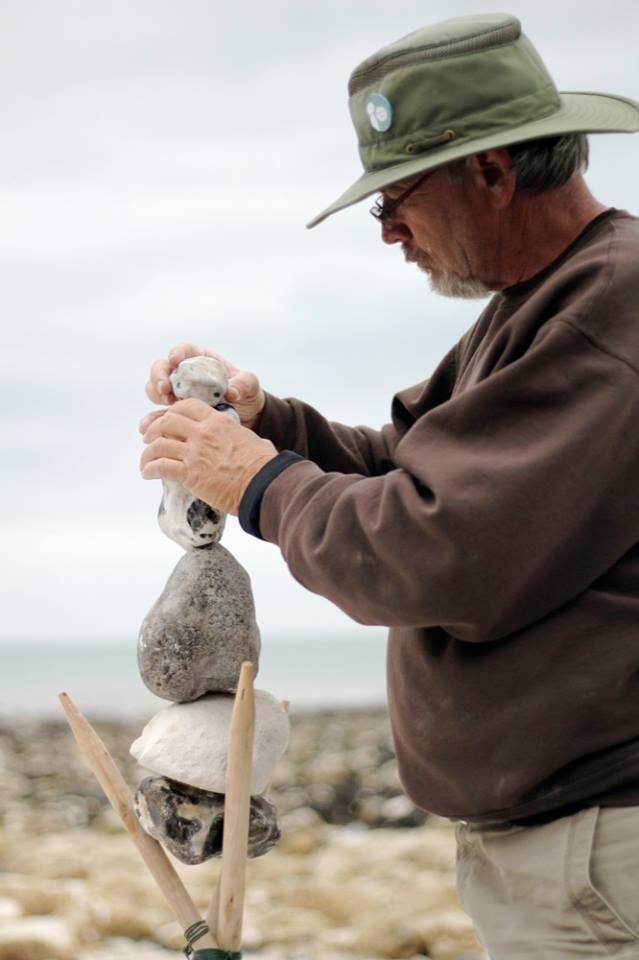 ******************************************************************************************************************************** ********************************************************************************************************************************
OTTAWA BAWI LIVE ENTERTAINMENT ITINERARY
1. OTTAWA STITLT UNION: "A CONSIDERABLE COCOON"  3:00 PM SUNDAY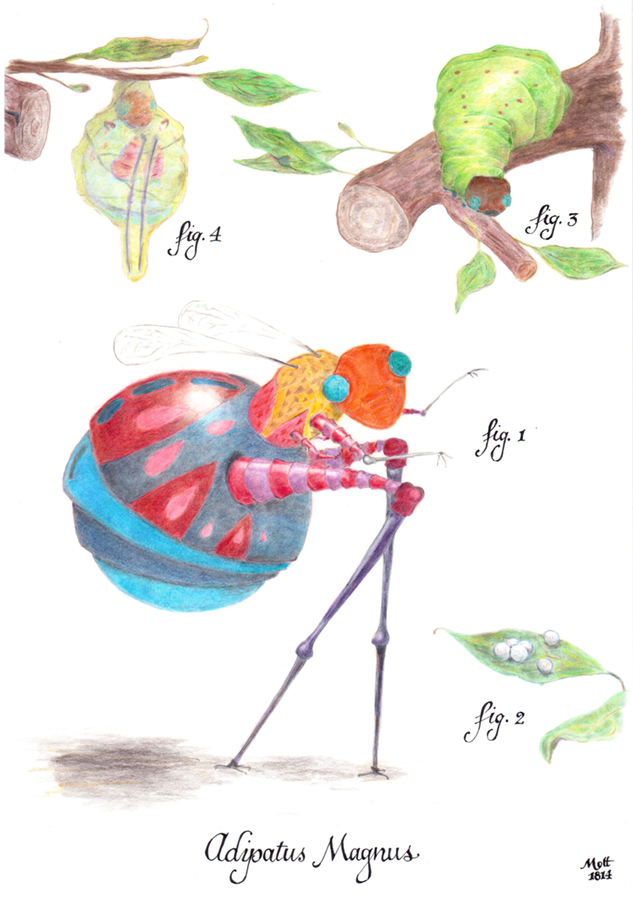 A considerable cocoon has very recently been spotted hanging in a tree in your neighbourhood. Very little is known about the the species, which has been dubbed penipotens adipatus magnus (P.A.M. or 'Pam' for short). This marks the first time in a great many years that human beings get the opportunity to observe evidence of the obscure organism, and the first time ever that anyone has seen a live specimen! Laypeople interested in contributing to the efforts are invited, nay, encouraged to make their way to the cocoon site on August 3 at Remic Rapids . Every passing day brings us one day closer to Pam's emergence; don't miss your chance to be a part of this historic event! http://ottawastiltunion.ca/animation-productions/a-considerable-cocoon/
2. BARBECUE GIRLS, FIRE DANCE. 8:30 P.M., SATURDAY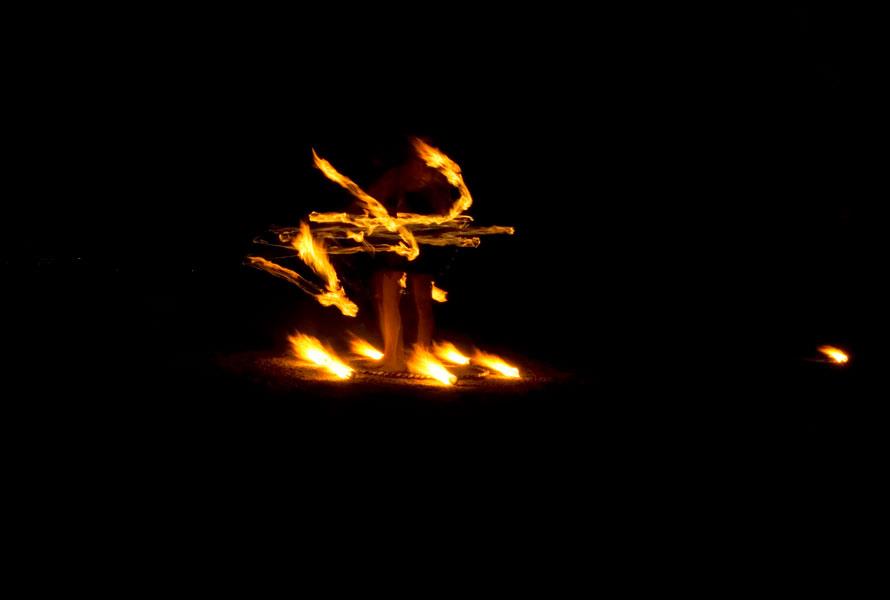 The Barbeque Girls are an Ottawa-based group of fire-spinners who bring the power, heat, and inspiration of fire to events and festivals in Eastern Ontario and Western Quebec. Lily Inferno and Zola Molatov began collaborating in the winter of 2010 and in August 2012 they adopted the name The Barbeque Girls after a radical group of women who stood up to patriarchy and inspired thousands of others along the way. 
The Barbeque Girls perform 30 minute to one hour shows of fire dance and movement (hoop, poi, fans, etc.) in a style that engages, excites and enlivens the audience. Because the performances thrive on improvisation and spontaneity, they can be organized in a variety of styles including: site-animation types of situations, accompaniment to live music, or they can take "centre stage". 
 A key advantage of The Barbeque Girls for event organizers is that no sound system wires are required and the show is extremely portable. The end-result is a highly organic, spontaneous and radical atmosphere wherever The Barbeque Girls perform. Video sample: http://vimeo.com/25670814
3. "TIPPING POINT" 6 P.M. MONDAY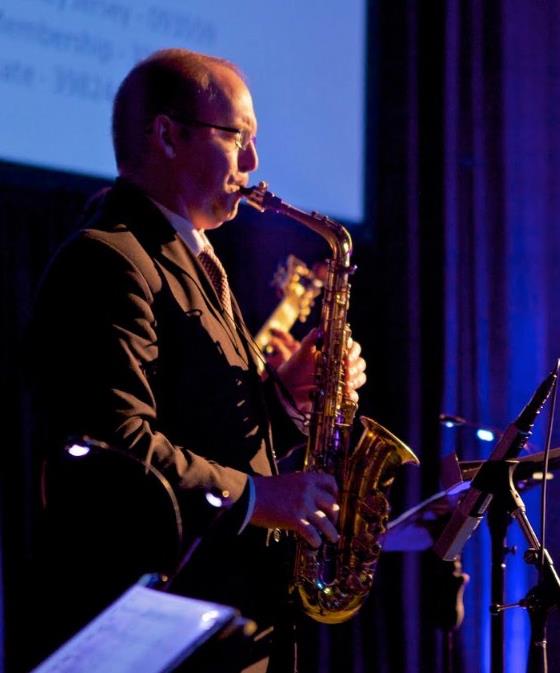 The personnel for Tipping point is Adrian Matte (saxophone), Daniel Hollenberg (winds) and Joshua Olsynko (percussion), created specifically for the 2014 Ottawa BAWI Balanced Art World International Festival in Ottawa ON.  Original music serving as thematic material will be composed during a site visit, drawing inspiration from the Remic Rapids site including the river, the rocks, shoreline, and the overall energy. On the day of the performance the musicians will perform in a manner that reflects the working methods of stone balance artists, and is based on my experience watching John Ceprano in particular. While there is a general plan, the stones and the process of balancing means the process restarts at every step. The final product is more than the result of a single original vision: it is the result of each arrived at state of balance and the multiple possibilities it then offers for the next stone. For the musicians, the composed sections are the raw materials – the stones. The improvised sections represent the act of balancing, and the slow building of the sculpture. Once the first stone is balanced, a new stone is found, and balanced in turn.  The focus for the musicians is playing the improvised "tipping point" – the period of time where the stone is being carefully brought to a point of stability.
4. Special guest artist, Hang Drummer, Pierre Sauvé, Gatineau, QC.