THE OTTAWA BAWI GANG 2014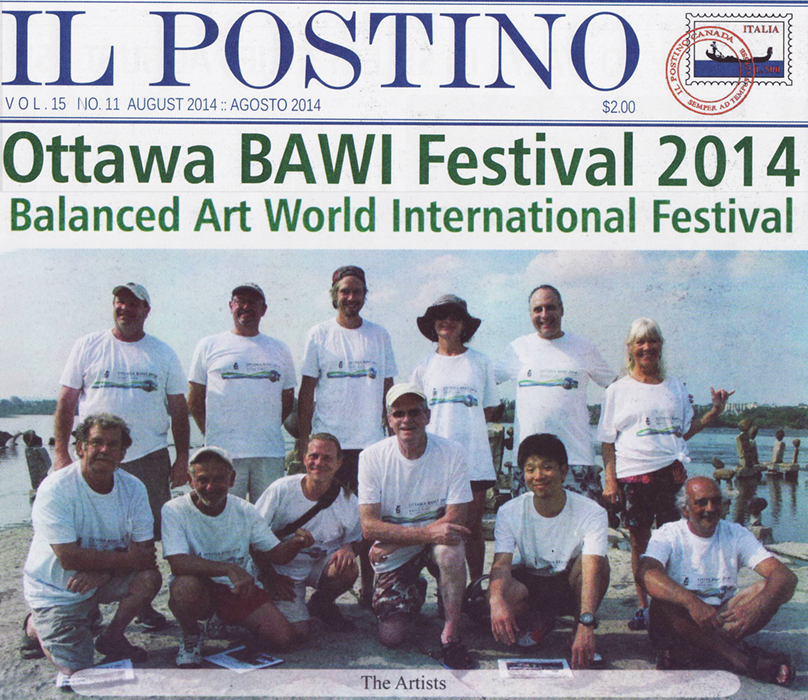 Top Row from left: Bill Peisher (USA), Peter Juhl (USA), Michael Grab (USA), Evelyne Sanchez (France), Jose Chvaicer (Brazil, Israel), Kathy Clarke (USA)
Bottom Row from left: Karl Ciesluk (Canada), John Felice Ceprano (Canada), Dan Davis (Canada), Robert Kaufmann (USA), Tsutomu Koike (Japan), Nicola Sette (Italy)
23 April 2015
Ottawa Rock Art has received approval for OTTAWA BAWI 2015, and is preparing the 4th annual International Stone Balance Festival @ Remic Rapids from the 1st to 3rd of August. The festival is an international gathering of ecological stone balance artists, and includes an itinerary of performance artists in dance, theater, and music.
 The Ottawa Arts Council has just published a review of the various eco-art projects planned for the 2015 season, and BAWI is presented in the publication "Art, Ecology & Education":  http://www.ottawaartscouncil.ca/en/council-news/art-ecology-and-education

The National Capital Commission, co sponsor and affiliate to the BAWI Festivals, has corroborated to promote awareness of environmental issues and ecological stewardship, sensitive urban development and pro-active community involvement in the future development of the region. In the past year, the NCC has provided numerous public workshops and labs to encourage community involvement in the future development of the region, encouraging the natural environment with urban development.
In the following weeks, the itinerary and profiles of the participants in this year's festival will be posted on this site.
Please review the previous posts of OTTAWA BAWI for more information and personal enjoyment.